On Sunday, the 5th of June 1813 in the hamlet of Grünebach a son is born to Johann Peter Baldus and his wife Elizabeth. They call him Eduard. He is their heir, and after her daughter Catherine their second child - and six more should follow until 1832.
At the time of Eduard's birth Napoleon's grenadiers had occupied parts of Sayn- Altenkirchen in the Duchy of Nassau in Germany. However, in those days nobody imagines that France will be Eduard's destiny. Why should it? Napoleon's Russian campaign fails and with the wars of liberation still in the course of Edward's year of birth, Blücher's Prussians with their allied Russians march into the area. A few years later Grünebach also legally becomes a part of Prussia.
Almost nothing is known about Eduard's childhood and youth in Grünebach, where everyday life was dominated by agriculture, handicrafts
and the hard and hot smelting works in the Grünebacherhütte. Probably, Eduard attended the Catholic school, which Grünebach and Sassenroth operated together.
Since in Prussia each man of twenty years of age was liable to military service for years anyway, it seems that Edward as a young man used the opportunity to join voluntarily the army already earlier. Now he is a soldier, a bombardier in the Prussian army in the Rhine Province, one of the gunners who served the mortars and howitzers, had the rank of Chief Gunner and was subordinate to the officers. But this is not the life Eduard Baldus had dreamed of.
And so, it is not the risk of his job as a soldier, which nearly will cost him his life and becomes the starting point of an almost unbelievable life story. He leaves the army and Cologne...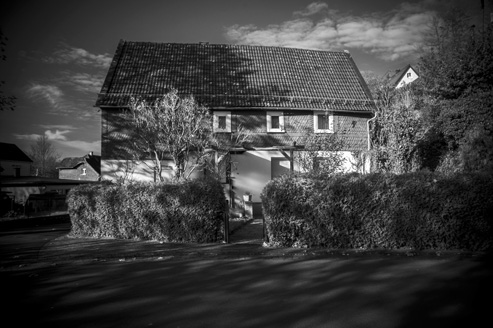 Birth House in Gruenebach (Today)