Eduard Baldus is now 25 years old and has arrived in Paris, and adjusts his name to the French spelling: Edouard. He wants to study art, but seems to move quickly to the practice. He tells of his exhibitions in Antwerp, of a tour in the United States as a portrait painter, but today there is no evidence for this. Then as now, his past is a mystery, also because Baldus is making confusing claims about his background: as his native country he names sometimes Germany, sometimes France and even the United States and as year of birth he states 1815. Is this the creative handling of truth by an artist, only the quite usual attempt to picture himself as a more interesting personality? Or is there a secret to hide?
Starting from 1841 for ten years he submits regularly his paintings to the annual Paris Art Salon, but these paintings are usually rejected.
In private life he seems to have more luck: In the spring of 1845, he marries the 22 year old Elizabeth Caroline
Etienne. Two daughters and a son quickly make them a family that need to be sustained. His wife's dowry is mended by the mother in law, the money invested in government bonds, so the young family can live on the interest in some way.
Baldus finally recognizes that it is time again to take a different path. When attempting to reinvent himself again, he takes advantages of an invention, which was made during his first arrival in Paris a decade before, and now just was about to find a wider public: the photography. The photo technology had made significant progress, shorter exposure time and mobile applications were made possible. Hippolyte Bayard, the actual inventor of the paper print process, had laid the foundations for and distributed photographed views of Paris since the late 1840s. In 1848, Edouard Baldus also learned this new technique, then finally fully dedicates himself to this new activity and travels in 1849 as a photographer to the south of France.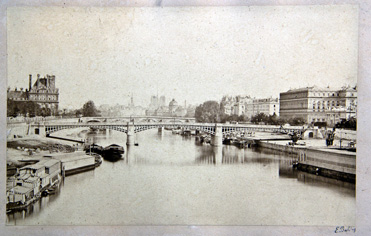 Paris/Seine - Baldus